Presentation February 10
January 26, 2015 - 1 minute read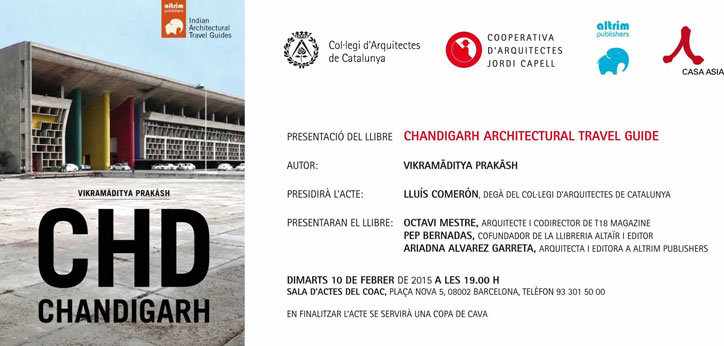 Next Tuesday February 10th Altrim Publishers will be joining some friends in the COAC (Col·legi d'Arquitectes de Catalunya), Barcelona, to present their new project and book, Chandigarh Architectural Travel Guide by Vikramaditya Prakash. It will be hosted in the lecture hall at 7.oo p.m. The presentation will be chaired by Lluis Camerón and will intervene Octavio Mestre, Pep Bernadas and Ariadna A. Garreta.

The presentation will be introduced by Lluis Comeron, dean of the COAC, he will be followed by Octavio Mestre, architect and co-publisher of the online magazine, T-18 Magazine. He will talk about Le Corbusier's architecture, it's influence on today's architecture and and the how modern are still Le Cobusier's masterpieces. After him, Pep Bernadas, publisher and co-founder of the traveling bookstore, Altaïr in Barcelona, will share with us a more human point of view of Le Corbusier's architecture when traveling. Finally, Ariadna A. Garreta, architect and founder of Altrim Publishers, who was the editor in chief during the guide's development process, will let us know why she chose to start Altrim Publisher's activity with the guide of this particular city, Chandigarh.
Facebook Event – RSVP HERE
We hope to see you all there and enjoy a great evening with all of you!
Tags:
2015
,
Architecture
,
Barcelona
,
Book
,
Chandigarh
,
COAC
,
Event
,
February
,
Le Corbusier
,
Presentation