The Truth about Chandigarh with Architecture as a Pretext
May 25, 2015 - 4 minutes read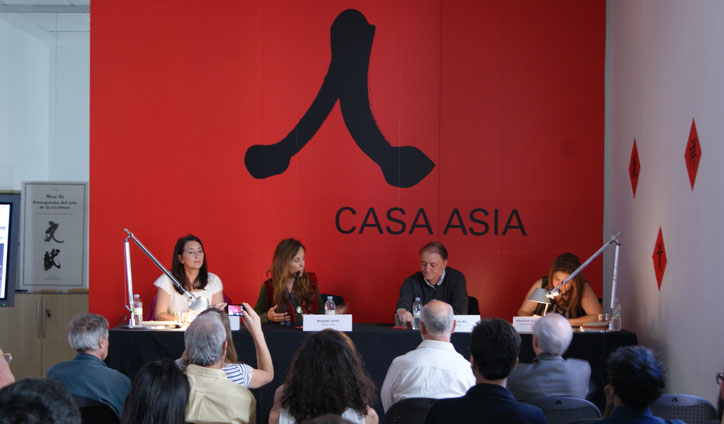 Last Thursday different experts on architecture in India gathered in Casa Asia to talk about the importance of nature and history in Architecture in India. This meeting was triggered by the presentations Altrim Publishers is organizing in India and Spain of the book The Chandigarh Architectural Travel Guide by Vikramaditya Prakash. We must thank Menene Gras from Casa Asia for inviting us to form part of this lecture.
First, Julio Grijalba shared with us the different perception of monument and time the Western culture has over the Indian culture. A conversation that captured everyone's attention and that opened our eyes in many aspects, specially in aspects concerning such a unique city as that of Chandigarh. As a result of his exhibition, "Discovering Ahmedabad: Urban Heritage and Transformation" and his research line promoted by the town-twinning of Ahmedabad and Valladolid, he could explain with details the importance of time when studying heritage. Indian culture add new bits and pieces to central arguments in order to grow, therefore they consider evolution and time to be cyclical, in contrast to our Western conception of time that could be defined as linear. So, how do catalog a building or monument as heritage in Modern India when their idea of time is cyclical? A very interesting and complex topic this professor develops exceptionally.
We then traveled back to the present with Rosa Cervera, founder architect of Cervera & Pioz, a well known architect in India studio from Madrid. Her studio and her, along with a huge team of architects are enthusiasts of the detail in nature the Indian architects has, whereas, again in contrast, Western designs are more rationalized and geometrical. The color and atmosphere of Indian architecture that captured Rosa since her early stages in life and her architecture professional career, are almost nonexistent in modern western buildings. She shared with us a vast arrange of buildings she has designed for Indian clients in cities life Mumbai, Delhi, Ahmedabad or even Chandigarh. Her studio became the first European studio to be awarded the 2007 Golden Global Award  by THE "ARCHITECTURE + DESIGN & SPECTRUM FOUNDATION", an Asian Architecture Award of great importance.
Finally, Ariadna A. Garreta, our editor in chief and editor of the Chandigarh Architectural Travel Guide shared with us the past, present, and plausible future of Chandigarh's architecture. Her passion for traveling inherited from a great architects, Miquel Alvarez Trincado, who was also his father, could be felt in every word, story and anecdote she shared with the audience. Also mingling her discourse with that of Julio. Chandigarh is a unique city in the same sense Brasilia, designed by O. Niemeyer is. Where does the heritage start and where does it end? We do understand that buildings are heritage, but are the streets, the trees, the Indian adaptions of every single idea Le Corbusier and his team worked in for so many years also considered heritage and monument? Furthermore, can something stop being a monument if the people who live it keep it alive change it radically? Chandigarh is a complex city in a way very few other urban conglomeration are around the globe.
The one thing everybody repeated consistently was the uniqueness of Chandigarh urban layout, architecture, and heritage. Will you experience it yourself? You can start by reading The Chandigarh Architectural Travel Guide by Vikramaditya Prakash.
Tags:
Casa Asia
,
Lecture
,
Madrid
,
Mesa Redonda
,
Presentación
,
Presentation